SUPER FOOD
A natural super food providing the body with a powerful path to health and wellness. Natures richest source of amino acids and growth factors.
Super Food
This rich matrix of amino acids and growth factors can help your body improve muscle tone, joint health and recover from exercise while burning fat.
ANTI-AGING
Powerful anti-aging benefits are derived at the cellular level & improve the body's immune responses to stress, environment & genetic factors.
Anti-Aging
A natural immune system booster, our supplement can also help improve bone density, strengthen the body's circulatory system and increase endurance levels.
MENTAL ALERTNESS
Mental alertness, motivation & libido are improved as the body is supplied with nutrients & growth factors that help balance hormones naturally.
Mental Alertness
Helps to modulate and balance hormonal levels, allowing the body to function better, improve libido and boost mental focus, energy and sleep.
Take Control of

Your Health

with Clearwater Nutrition Lab's Products!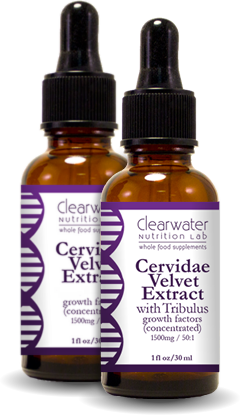 Our products have been developed with your health in mind. They contain essential nutrients and natural growth factors to help ward off the negative effects of aging so you can lead a healthier more active life. Our products are created using the finest herbs, vitamins and minerals available. We use only all natural ingredients, no chemicals, binders or fillers so you know when using Clearwater Nutrition Lab's products, you are taking the purest, healthiest supplements available.